Marla & Eric News



10/02/07

We are happy to report that after some drama, mostly cat-related, Marla and the furry ones are safe and sound in Salem. Marla, Clem and Gemma left Ottawa on Sept. 21st to spend a week in Nova Scotia before crossing the border. On entering the Halifax airport, Marla figured she had time for a quick bathroom break before claiming her luggage and cats, and so was surprised when Westjet began paging her the moment the stall door closed behind her. When she approached the Westjet counter she heard the words no cat-mother wants or expects to hear:

"Your cats are all right. They're all right -- but they're in Calgary."

As it turns out, someone had neglected to offload the cats when Marla's first flight landed in Toronto. As a result, the cats continued West while Marla switched planes to fly East.

"This happens with luggage sometimes, but not usually with pets. Ha, ha," the Westjet lady helpfully added.

The earliest they could be returned to Halifax was the following morning. And so it was that more than 24 hours after leaving Ottawa, two bedraggled cats arrived at Marla's parents' doorstep by courier delivery.

While the cats were en route from far-off places, we were busily preparing for a pre-wedding meet-and-greet at the Yarmouth County Museum. It was a great chance for us to celebrate with Marla's extended family and local friends, many of whom Eric hadn't met. Eric's parents, grandparents and several other family and friends from the Maritimes and beyond were also able to attend. Here we are in our Sunday, or more appropriately, Saturday, best: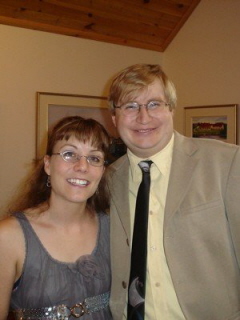 Thanks to Marla's mom and sister, who did a great job coordinating the event.

After spending several days in Yarmouth we continued to Wolfville for Eric's sister Katrina's wedding at our alma mater, Acadia U. The Thursday evening before the wedding, a surprise shower was held at the Grand Pre Winery. Here's Trina reliving her glory days as New Hampshire's Favorite Pre-Teen 1993-94: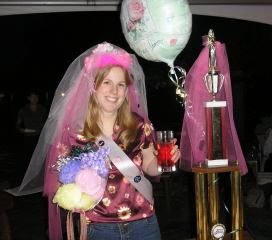 The wedding went off with a hitch, but one which resolved itself so perfectly that it couldn't have been scripted better. The bride and her attendants had just marched up the aisle when the maid of honour turned to Eric's mother in a panic and whispered that one of the rings had been left at the inn where they were staying. In a truly heroic effort, Eric's aunt and uncle Janet and Glen, armed with rudimentary directions, tore off for the inn, somehow managing to navigate the post-football-game traffic so neatly that the ring was delivered and slipped into the maid of honour's hand at the very moment the minister called for the rings. Here's the lovely couple leaving the chapel: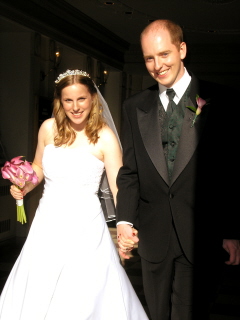 The morning after the wedding we hit the road for the 12-hour drive to New Hampshire, first collecting the cats at the kennel where they had spent the weekend. Clem screamed consistently for the first four hours of the drive before giving up and suffering in silence for the remainder of the trip. Marla's entry into the US on her fiancee Visa was without event, save for a border guard choosing our car as the one in which to plant a 5000-gram bundle of premium marijuana for the purposes of training their canine drug detectors, who had no trouble picking up the scent.

We look forward to celebrating our wedding in a little more than a week. Marla's maid of honour Sasha will arrive a week before the wedding to help with the preparations, with family and friends trickling in soon after. Stay tuned!


08/26/07

Consider it confirmed - 10:00 a.m. at Frost Farm is a go!


08/19/07

Just a quick note to update our guests on all things wedding, as it may be a few weeks yet till you receive your paper invites for Marla and Eric's Wedding Version 2.0! The delay is due to our awaiting confirmation on the availability of the Robert Frost Farm for our ceremony, as it officially closes for the season the week before our wedding. At any rate, we do know that our reception will be held from 11 a.m. to 4 p.m. at East Hampstead, NH's beautiful Granite Rose. All signs point to a 10:00 a.m. ceremony -- if we are unable to make arrangements with the Frost Farm, we will likely hold the ceremony at the Granite Rose as well.

The official hotel of the Landers-Renouf wedding remains the Park View Inn in Salem.

Please don't hesitate to get in touch if you have any questions about travel, accommodations, etc. We look forward to celebrating with you in less than two months' time!


08/02/07

Pack your bags and clear your calendars -- 11 months after beginning the process, we have a fiancee visa and a new & improved wedding date!

Marla just returned from Montreal full of poutine and good news -- we're excited to confirm that we'll be married OCTOBER 13TH at Robert Frost Farm, as per our late, great original plans. Details will follow by mail and right here on good ol' marlaanderic.com. Marla will be packing up her life in Ottawa in the coming weeks with the intention of making the move south around October 1st, following Matt and Katrina's wedding.

Progress -- it's a beautiful thing!


07/26/07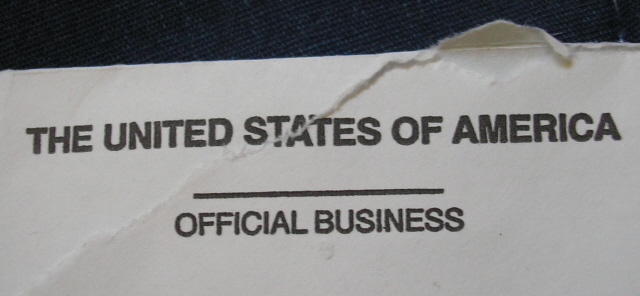 Finally, some beauracratic movement -- we may be married in 2007 after all! On Tuesday, Marla received the date for her interview at the US Consulate in Montreal -- and ripped the letter open with such vigour that she impaled her thumb on a staple contained therein. Her interview will take place next Wednesday (August 1st), meaning that with any luck, we'll have a fiancee Visa and confirmed new wedding date (broad hint: the day after October 12th and immediately preceding October 14th) by the end of next week!

Eric visited Ottawa last weekend bearing a crafty offering and his most "welcoming" expression: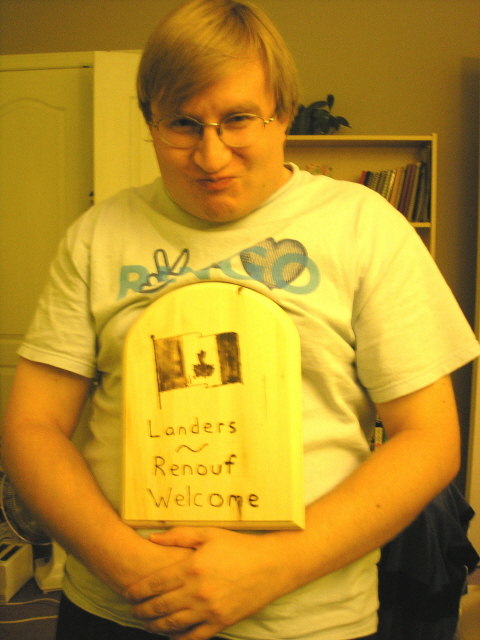 Having begun to doubt that the Visa would ever come through and a wedding take place, Marla was glad for this visual reminder of our eventual union at a time when the passing months were making it seem increasingly remote.

Thanks to Marla's roommate and maid-of-honour, Sasha Dunfield, for offering her chauffeuring skills for the early-morning trek to Montreal. A bientôt!


07/04/07

Happy Fourth of July and a belated Happy Canada Day to our North American readers! It's a bittersweet one since in an ideal world, it would be Marla's first Fourth as a US resident. Ideal worlds seem to be in short supply these days, however -- with our original wedding date come and gone, Marla remains marooned in Ottawa with nary a word on the status of her Visa application. All is not lost, however -- Eric spent what he likes to call our "un-niversary" hosting friends from Ottawa, while June 9th found Marla in Nova Scotia meeting her week-old nephew, Phillip Benjamin Graham: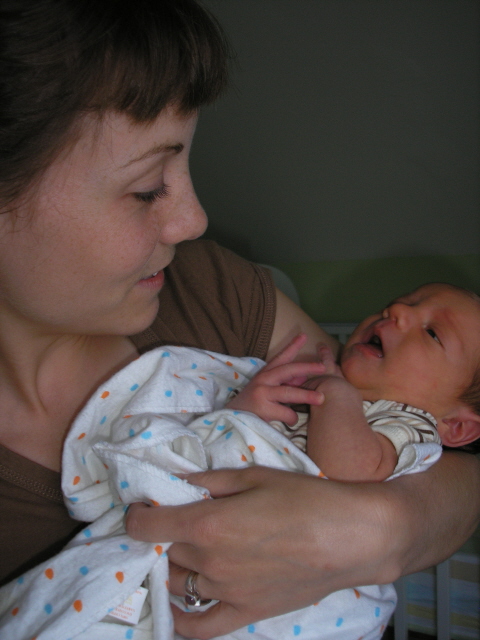 Phillip and Mommy: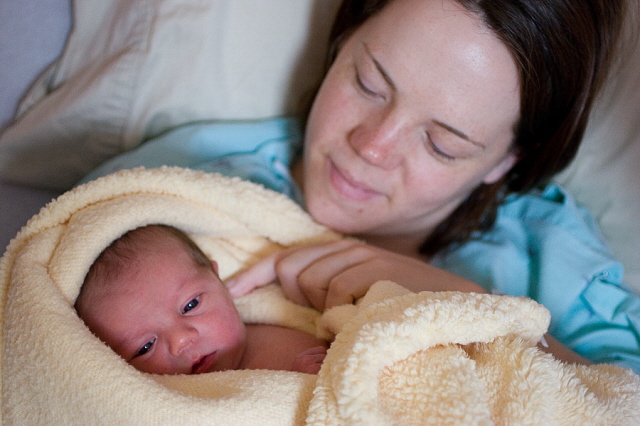 (Photo by Adam Graham)

While in Nova Scotia Marla and her mom had a chance to meet up with Eric's mom Carol, who happened to be in the province at the same time, as well as Eric's sister Katrina, Katrina's fiance Matt and Matt's mom. It was a nice coincidence, especially since Marla hadn't seen Katrina in over a year and Carol since last fall, the latter due to the fact that these days the US won't even admit her as a visitor.

In the meantime, however, her Canadian friends have been taking good care of her. On June 2nd, despite the fact that no one knows exactly when she's skipping town, the gang hosted a surprise "bon voyage" party at The Works, an Ottawa burger joint. Here's Eric with a true monstrosity of a meal -- a burger topped and accessorized with Kraft Dinner/Kraft Macaroni and Cheese (how's that for a nod to both sides of the border):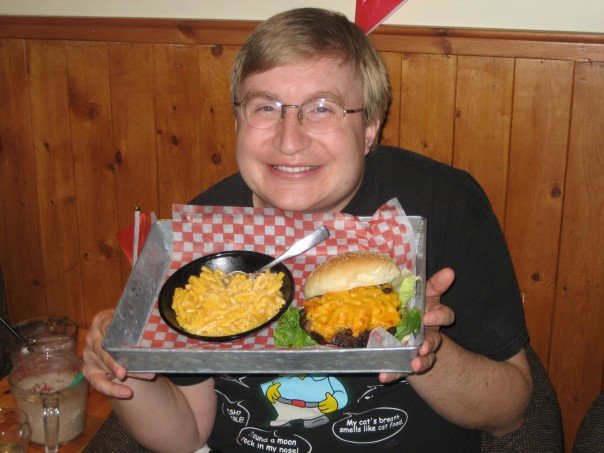 Despite having placed deposits on all things wedding-related before the whole thing went bust, we were very fortunate in that every single vendor has agreed to honour our contracts at a later date providing they're available -- a big weight off our shoulders! And despite having given notice to both her work and roommates way back when a June wedding was still in the cards, Marla has been able to get some personal training work and remain in her same accommodations for the summer. Last but not least, a veritable monsoon hit Derry, New Hampshire on June 9th, which would have made an outdoor wedding fairly uncomfortable. So even though things didn't work out as planned, we recognize that they could be a whole lot worse! We are very tentatively looking at an October-ish wedding -- as always, however, all things depend on Visa timing. So don't make any plans (we sure won't 'till the Visa's in hand), but keep it in mind and we'll let everyone know as soon as we have news! In the meantime, we look forward to attending Katrina and Matt's upcoming Nova Scotia nuptials.

Adieu for now!


04/25/07

News Flash

We regret to inform our guests that, as a result of immigration delays, there will be no wedding on June 9th, 2007. We will be mailing a letter to all guests this week, but this is a virtual heads-up. Many of you are aware that we learned about a month ago that Marla's Visa to enter the US and be married might not come through in time; in the last few days, we received word from a couple of US senators who contacted the US Consulate on our behalf that due to the high volume of applications, blah blah and etc., it was "highly unliklely that Ms. Landers would receive her Visa by June 9th." As a result, we have been forced to postpone the wedding and begin unbooking services and notifying guests.

Perhaps Marla SHOULD have proceeded with her scheme of camping out on the lawn of the US Consulate in Montreal in her wedding dress, chanting "Let me in! Let me in!" Such tactics came to mind, and what would we have had to lose? Then there was the letter, tragically unsent:

"Dear Mr./Ms. Consulate Man/Lady,

I am writing to request that you admit me to your country in a timely fashion. As a Canadian native, I have much to offer your nation, from a brief introduction to poutine to remedial spelling classes (with focus on restoring the letter "u" to its rightful place, e.g.: "flavour.") Do you enjoy seafood? My dad is a lobster fisherman. I could hook you up.

Your friend,
Marla Landers"

Despite the Consulate's best efforts we will be married eventually, and will keep you all posted on rescheduled festivities. Thanks for your interest and support in these most interesting times!


02/15/07

Happy Valentine's Day +1!

After several weeks of scrambling around assembling police checks, posing for mug shots and submitting to syphilis testing, Marla celebrated Valentine's Day by dispatching her fiancee Visa application to the US Consulate in Montreal. Now, as ever, we play the waiting game ("The waiting game sucks. Let's play Hungry Hungry Hippos!" -- Homer Simpson). The next thing we hear from the Consulate should be the date for Marla's in-person interview in Montreal, at which time, if all goes as planned, she'll receive her Visa and be free to enter the US on condition of marrying Eric within 90 days. Now that the paperwork is out of our hands, it's on to equally important matters...like finding out the regulations for cross-border cat transport (kitty passports, perhaps?)

We'll shortly be adding a festive new page to our site -- raise the roof, 'cause it's all about the Wedding PARTY! Look for profiles of the best man, maid of honour and other wedding players. Note a major re-casting in the role of maid of honour...for an unexpected but exciting reason!

We have temporarily prevented our guestbook from accepting new entries due to an influx of spam (for which Marla accepts full responsibility as Eric shakes his head in chagrin). Who knew that posting our website link on a wedding website directory would have such disastrous results?

Our wedding plans continue to fall into place between the business of work travel for Eric and life in general for Marla -- re-learning how to drive (it's a long story), taking on personal training clients and slowly but surely sorting and packing up in preparation for the big move. Marla's and Sasha's (her maid of honour's) dresses have been ordered, the linens lady is working her connections in a search for just the right shade of pink and Eric's mailbox is slowly filling up with copies of New England Bride magazine...which he no doubt devours from cover to cover.

Just 113 days 'till we get married...but who's counting?


12/17/06

Not wedding-related, but doing our part to spread the word:



Unfortunately, the image doesn't seem to show up in Firefox...if it doesn't display for you, go here for the scoop.

February 15th update: That "0" under "this site's impact" looks so sad...bear in mind that Eric has a DVD copy of the film and ain't afraid to lend it! In fact, he just might force it on you if he gets you in a corner. ;)


11/07/06

Drum roll please...we have a ring!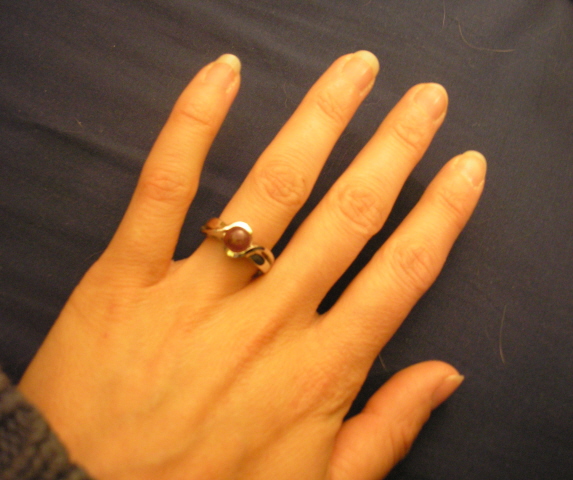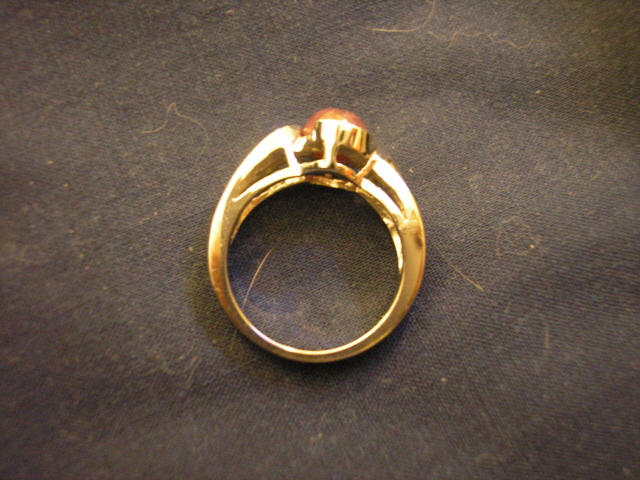 It's been pretty neat to be part of the ringmaking process from harvesting the "honker" to having the stones cut to choosing the setting. For this last step, Marla found an online photo of a setting that she liked and left the rest to Eric, who found a similar setting at a local jeweler's and opted for white gold. Marla and all who have seen the ring since Eric presented her with it last Friday agree that he did a bang-up job.

Marla's mother especially likes the "homey" effect of the cat hairs on the photos' backdrop. :)


10/18/06

Here's a copy of our engagement announcement from a recent issue of The Vanguard, Yarmouth, Nova Scotia's finest (ok, only) weekly: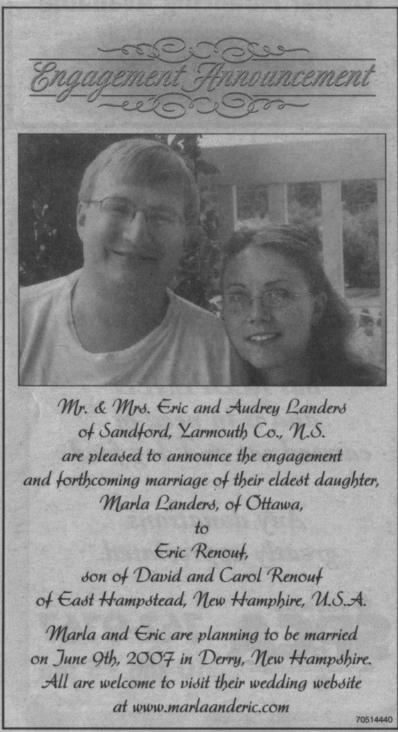 10/14/06

Marla recently came across a photo she took of Eric at their 2000 graduation from Acadia University, where, as vague acquaintances, their interaction consisted solely of campus run-ins in which he'd address her as "Lobster Girl" (due to the fact that her father was a lobster fisherman and that a summer job had required her to dress in full lobster costume) and break into his patented, claw-waving lobster dance. Behold: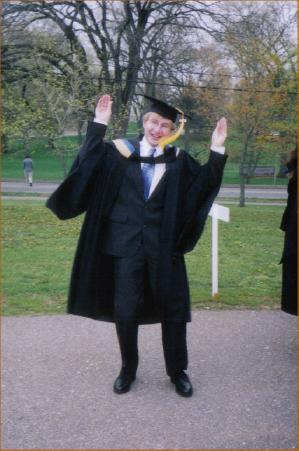 She would have split her crustaceous carapace with disbelieving laughter had anyone suggested that she would one day marry the friendly, strange, dancing American.


09/03/06

Long time no update...but much wedding planning fun and games to share with our readers!

Marla spent a week with Eric in Salem at the end of July/beginning of August, which served both as a nice vacation and as an opportunity to take care of some wedding details in person. Eric's mother Carol was an important part of this process, accompanying Marla to various bakeries and shopping plazas while Eric was at work. Supplies were bought, the intricacies of frosting were discussed, decorating schemes were schemed; by week's end three bakeries had been visited and a winner declared, miles of tulle had been bought and Rockingham county's finest lunch spots had been toured. During this time we also met with and hired an officiant and spent some time with Eric's family and friends including (best man) Chris Boran, his wife Erica and son Nate and Aaron and Julie Brayall.

Throughout August we continued our cross-border trips and wedding planning. In an episode Eric likes to refer to as "You Lost Me at Nosegay," we spent several hours with a Derry florist discussing the finer points of bouquets and bouttonnieres.

In engagement-related news, the rubies for Marla's ring have been cut and polished! The finished product: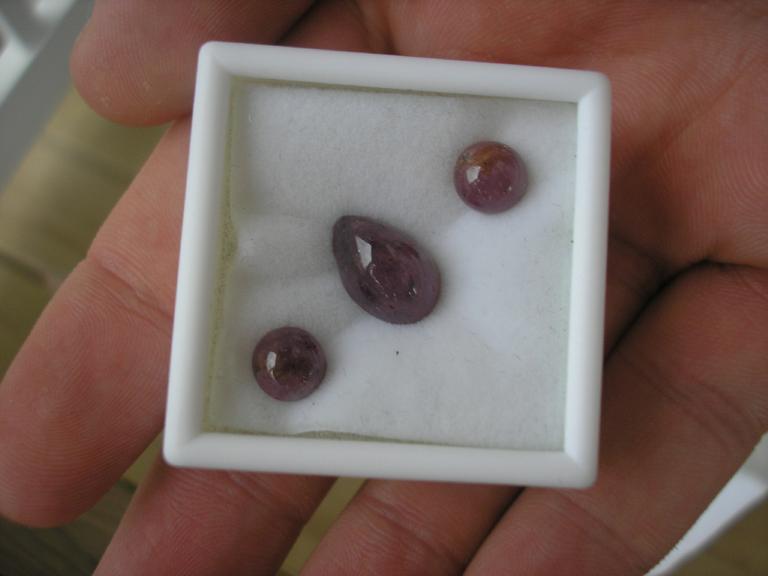 09/03/06

During one of Marla's recent US visits we spent some time creating our wedding registry. We chose to register at Linens N Things via The I Do Foundation, which will direct a portion of sales from our registry to Trees for Life, an organization which provides fruit trees to residents of developing countries. If you will be making a purchase from Linens N Things, please be sure to access the registry through the link on our I Do Foundation page to generate donations.

As another option, we gratefully welcome donations to either of the following charities in lieu of a wedding gift:

Environmental Defense

Action Against Hunger


08/03/06

Ideas can be a dangerous thing. Take, for instance, these examples of wedding-themed "kitty couture," as found on KittyCity.com: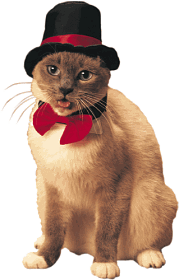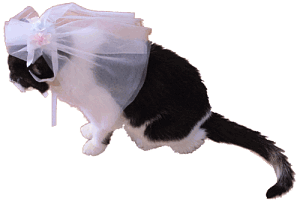 And it simply wouldn't do to overlook our Jewish feline friends: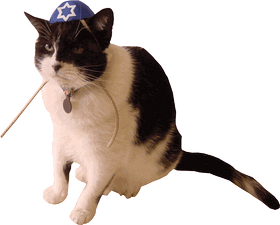 "Surely Marla would never subject her cats to such indignities," you may be thinking.

Yes...never.....


08/03/06

Presenting the latest in confectionary stylings -- wedding cakes by Hostess!


07/23/06

Congrats to Marla's roommate Sasha, the current champion of our recently-posted quiz with 9 out of 10 questions correctly answered! Perhaps, as she and Marla are fond of claiming, their hearts really DO beat as one.

Marla and a mad gaggle of girlfriends gathered yesterday for a fun-filled afternoon of wedding dress shopping in Ottawa's Chinatown, followed by an excursion to a local bubble tea shop . Mmmm...bubble tea. The girls visited two shops and were the lone customers at each, allowing them to plunder the racks uninterrupted. While no dress was purchased, a strong contender was identified...but the author of this entry can say no more!

Great news -- we have confirmed our reception location! The festivities will take place at Tupelo Music Hall in Londonderry, NH, a mere 11 minutes from Frost Farm. Since Tupelo's a fairly new facility, they haven't advertised widely as a function location, which was lucky for us in that higher-profile venues were long ago booked solid...were it not for several hours of late-night Googling, we might never have known it existed! We explored the Hall in person about a month ago and think the size, atmosphere and amenities will suit our needs perfectly.

Now that we've got another major detail pinned down, maybe we'll start dabbling in the REALLY fun stuff...hello, cake tasting!


07/16/06

Our friend Charlene has been complaining that our updates have been few and far between. This one's for you, little lady!

We finally found a lapidary with the necessary tools and expertise to cut the rubies for Marla's engagement ring. While he says the "honker" we dredged up isn't of the greatest quality, he thinks he can get at least one -- and maybe as many as three -- workable stones from it. After that comes the fun of dreaming up a setting and seeing our mining and designing come to life. Yay!

In other news, we recently learned that our wedding will be Frost Farm's first! Since we were originally informed that ours would merely be among the first, this was a neat little surprise.

Marla will be spending a week in New Hampshire at the end of July/begining of August, which will be a good chance to do some hands-on wedding planning and hopefully result in more news and updates. In the meantime, we hope this quiz will provide a few minutes' entertainment:

Think you know Marla and Eric?


07/01/06

These flowers in Marla's window box were obliging enough to bloom in our main wedding colours: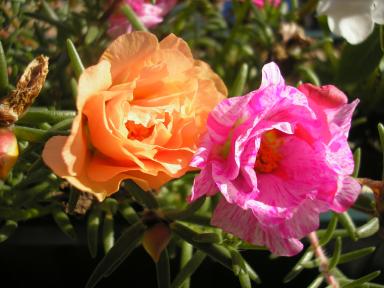 06/29/06

Last weekend we received absolute confirmation that our ceremony will take place at Frost Farm. Huzzah! The reception, however, is another matter (darn liquor laws!) Fortunately, an exhaustive Google search revealed a potential location that's pretty darn perfect and available on June 9th; we're waiting on a bit more info before snapping it up, but will keep y'all posted!

Here are some photos from a recent reconnaissance mission we made to the farm: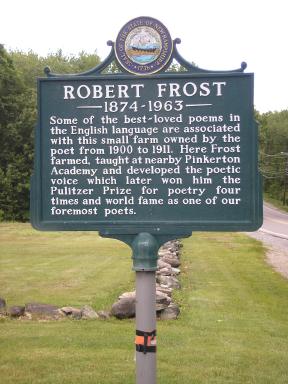 Eric attended high school at the above-mentioned Pinkerton Academy, which features the Robert Frost wing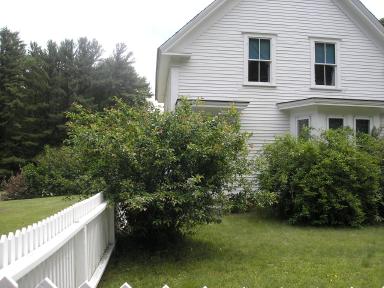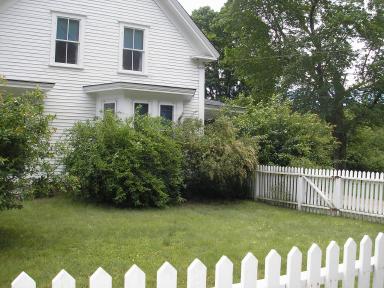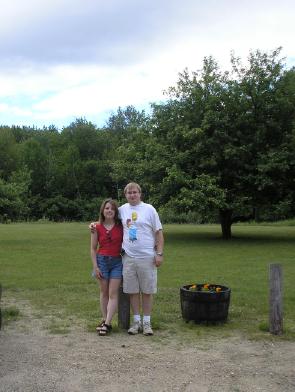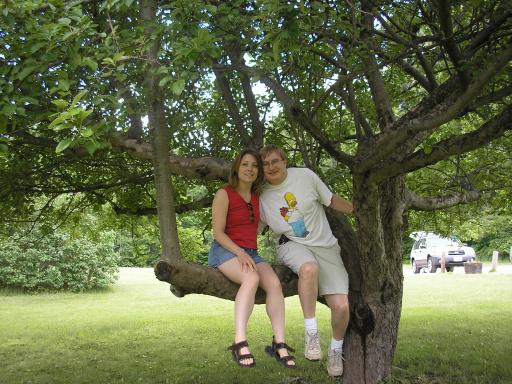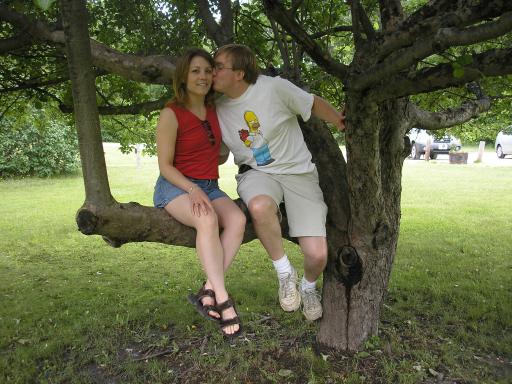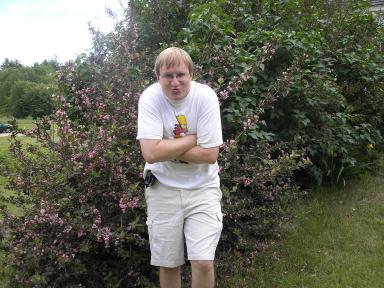 Local curmudgeon


06/22/06

We would be remiss in failing to congratulate Eric's sister Katrina and her "upgraded boyfriend" Matt on their recent engagement! Here's a photo Marla snapped of the happy duo the last time we saw them, in May at a wedding in Halifax (hi Rick and Leilani!):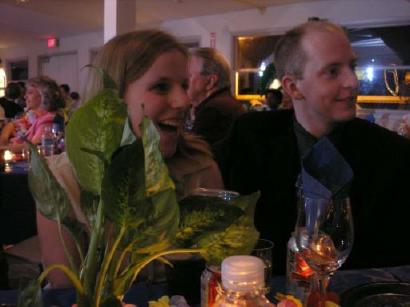 We look forward to sharing in the sort of nuptial celebrations that could only be pulled off by New Hampshire's Favorite Pre-Teen, 1993!


06/10/06

The countdown begins -- 364 days 'till our wedding!

In a pleasant twist of fate, yesterday was also the day we finally got the go-ahead on our wedding location of choice. And the winner is (insert drum roll here)...

Beautiful Robert Frost Farm, conveniently located in scenic Derry, New Hampshire!

A New Hampshire historic site, the farm marks the place where Robert Frost began his emergence as one of America's greatest poets while making ends meet as a poultry farmer and teacher of English at Eric's former high school, Pinkerton Academy. In a letter to a friend in 1952, Frost shared these thoughts on the "Derry years":

"I might say the core of all my writing was probably the five free years I had there on the farm down the road a mile or two from Derry Village toward Lawrence. The only thing we had was time and seclusion. I couldn't have figured on it in advance. I hadn't that kind of foresight. But it turned out right as a doctor's prescription."

Nearly a century after Frost moved away from the farm, we will be among the first to take our vows where the poet once walked.